What is Heavy or Excessive Menstrual Bleeding?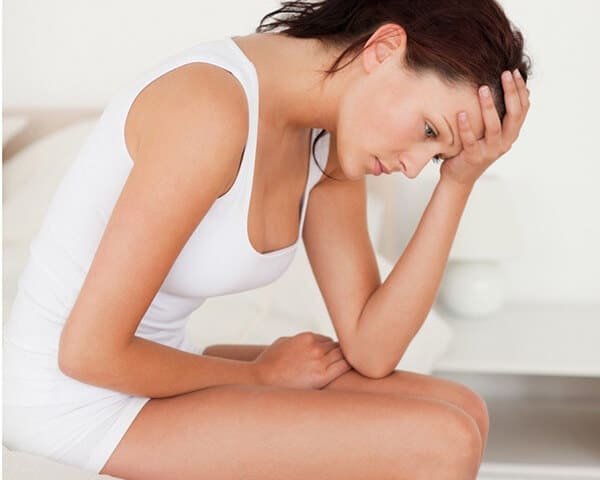 This is a very common problem that affects about 1 in 3 women. The signs of heavy bleeding are most likely to start between the ages of 30 and 40. Many women also say that excessive menstrual bleeding makes it difficult to work, exercise, and be socially and sexually active. You may also feel weak, tired, and have no energy.
Why would 95% of Patients Recommend Minerva?
72% of women had no bleeding (Amenorrhea)
93% of women had their periods reduced to a normal or less level (Treatment Success)
Women have improved their desire or interest in sexual activities (if sexually active)
Treatment can be performed in your doctor's office under minimal anesthesia
Fast Procedure Time of just 3 to 4 Minutes
One year following the Minerva Treatment in a clinical study conducted for FDA approval
Minerva Endometrial Ablation System
If heavy periods are making it difficult for you to live a normal life, Minerva may be the answer for you. The Minerva Treatment is a one-time, safe, effective, quick and complete procedure that can reduce heavy bleeding. The treatment can be done at your Minerva Specialists clinic, without making incisions or using general anesthesia that puts you to sleep.

Why Doctors Choose Minerva
The Minerva Treatment can be done at any time during the menstrual cycle. It is a 3 to 4-minute treatment that can be done in your doctor's office, and you do not need to be put to sleep (general anesthesia). Clinical studies tested the Minerva System and the following benefits were found.
93% of women had their periods reduced to a normal or less level (Treatment Success)
72% of women had no bleeding (Amenorrhea)
Women have improved their desire or interest in sexual activities (if sexually active)
95% of patients would "Maybe or Definitely" recommend the procedure to a friend or relative
Fast Procedure Time of just 3 to 4 Minutes
One year following the Minerva Treatment in a clinical study conducted for FDA approval
Why Should You Consider Minerva?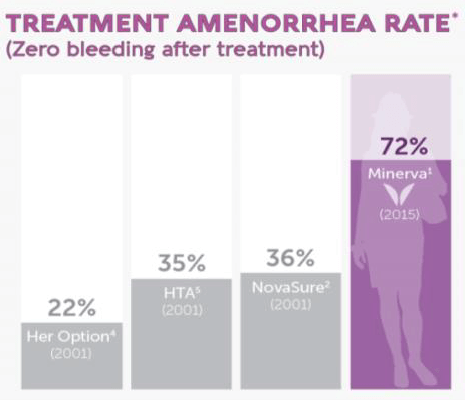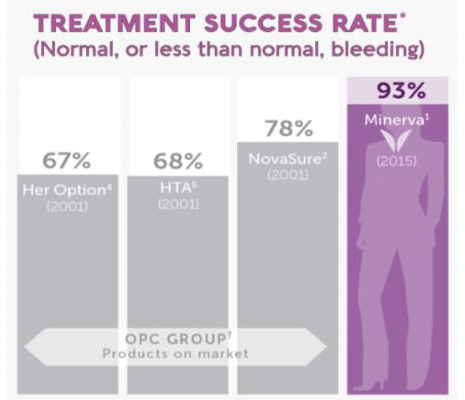 †The objective performance criterion (OPC) is 66% based on the lower bound of the 95% confidence interval (LB 95% Cl) of the average success rate of the five previously approved global endometrial ablation (GEA) devices measured by the PBLAC method. Success in the Minerva RCT was achieved when bleeding was reduced to AH Value of ≤80ml at 12 months after the endometrial ablation procedure. Amenorrhea was defined as a score of 0.1 Secondary study endpoints included the amenorrhea rate, length of procedure (handpiece insertion to removal), and responses from a patient satisfaction questionnaire.1 MEA and ThermaChoice were included in the OPC but are no longer for sale in the United States.
*Not based on a head-to-head study. Data from intent-to-treat populations at 1-year follow-up in the Instructions for Use for Minerva®, Her Option®, HTA® System, and NovaSure®.
Minerva Endometrial Ablation System [Operator's Manual]. Redwood City, CA: Minerva Surgical, Inc; 2017.
NovaSure Impedance Controlled Endometrial Ablation System [Instructions For Use and Controller Operator's Manual]. Marlborough, MA: Hologic, Inc; 2014.
Her Option Office Cryoblation Therapy [package insert]. Minnetonka, MN: American Medical Systems, Inc; 2007.
Genisys HTA ProCerva Procedure Set [instructions for use]. Marlborough, MA: Boston Scientific Corporation; 2014.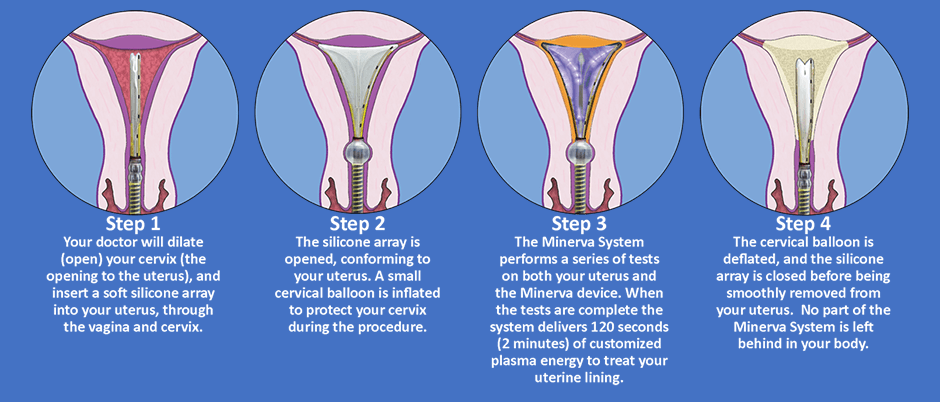 Here's what you can expect
Before, During, and After the Minerva Treatment.
What Happens During Treatment?
At the time of the procedure, the doctor will insert a speculum (a medical tool that opens your vagina) so that your doctor can see inside. The doctor may make your cervix numb so that you do not feel pain during the procedure. Based on this procedure, the doctor may determine that you are not a candidate for treatment with Minerva. In that case, the doctor will talk to you about other options to treat your heavy menstrual bleeding.
The doctor will gently dilate (open) your cervix to insert the soft tip of the Minerva device into your uterus. The Minerva Controller will then provide energy to heat the inside of your uterus for 2 minutes. At the end of the treatment, the doctor will completely remove the device from your uterus. The entire treatment, from the time the device is inserted until the device, is removed, usually takes less than 4 minutes.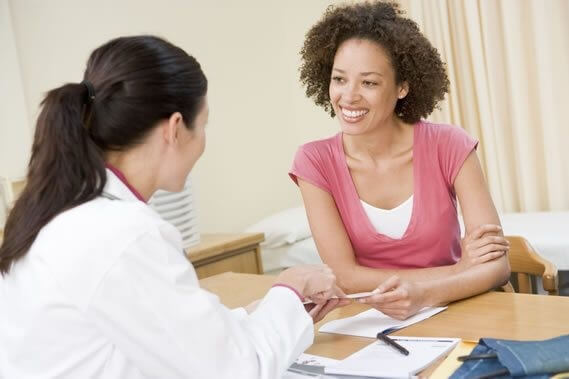 What Happens After Treatment?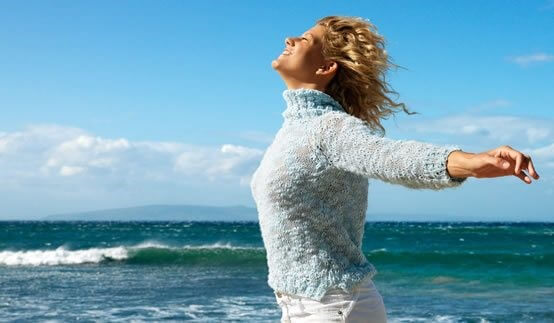 After treatment, you will be taken to a recovery area where you will be watched for about 1 hour to make sure there are no complications. You may experience some mild to moderate low abdominal cramping and pain. The recovery room nurse may give you some medication for this. You will then be released to go home. It is important that someone is with you to take you home. You cannot drive immediately after the procedure because of the medication you were given.
Most patients experience some mild low abdominal pain for a day or so, which usually is treated with over-the-counter (non-prescription) pain medication that your doctor will recommend. Patients also reported vaginal discharge following the procedure. During the first few days, the discharge is likely to be bloody in color, but it will gradually turn clear. The total time of vaginal discharge varies but is expected to last for two to four weeks, so it is recommended that you wear some sanitary protection (for example a panty liner) during this time.
When to Call Your Doctor?
Your doctor's office will likely call you to check on you after your treatment. However, if after the procedure you are experiencing increasing pain, increased bleeding, greenish foul-smelling vaginal discharge, or have a fever greater than 100.4°F, immediately call your doctor's office. In rare cases, endometrial ablation can cause a serious injury that, if not treated promptly, can lead to death.
If you call your doctor at night or on a weekend, your doctor's office will likely have an answering service that will put you in touch with your doctor or the doctor-on-call. If you are not able to talk to your doctor, call 911 or go to the nearest Emergency Room.
How to Choose a Treatment with Your Doctor?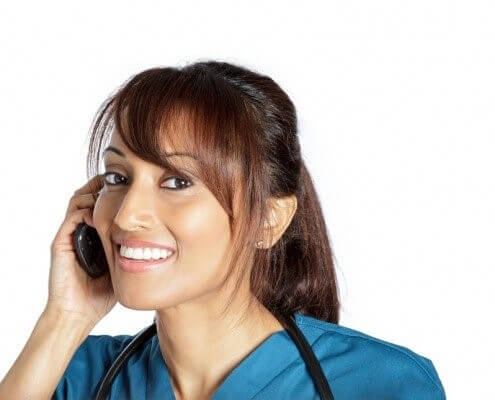 The first step is to talk to your doctor about your heavy bleeding problem. Your doctor will do a series of tests to find the cause of your excessive menstrual bleeding. Excessive bleeding by itself is not a disease. It is a sign or symptom of a number of possible medical conditions.
Using ultrasound and/or hysteroscopy (methods used by doctors to look at the inside and outside of your uterus), and some other medical tests, your doctor will find the cause of your bleeding.
Your doctor will then help you select the right treatment. Depending on the reason for your excessive bleeding, your doctor may suggest that you first try medications. If medications do not work, or you are not allowed to take them for other reasons, your doctor may suggest endometrial ablation using the Minerva device.
The following table shows common treatments used for excessive bleeding and the advantages and disadvantages for each.
Treatment Options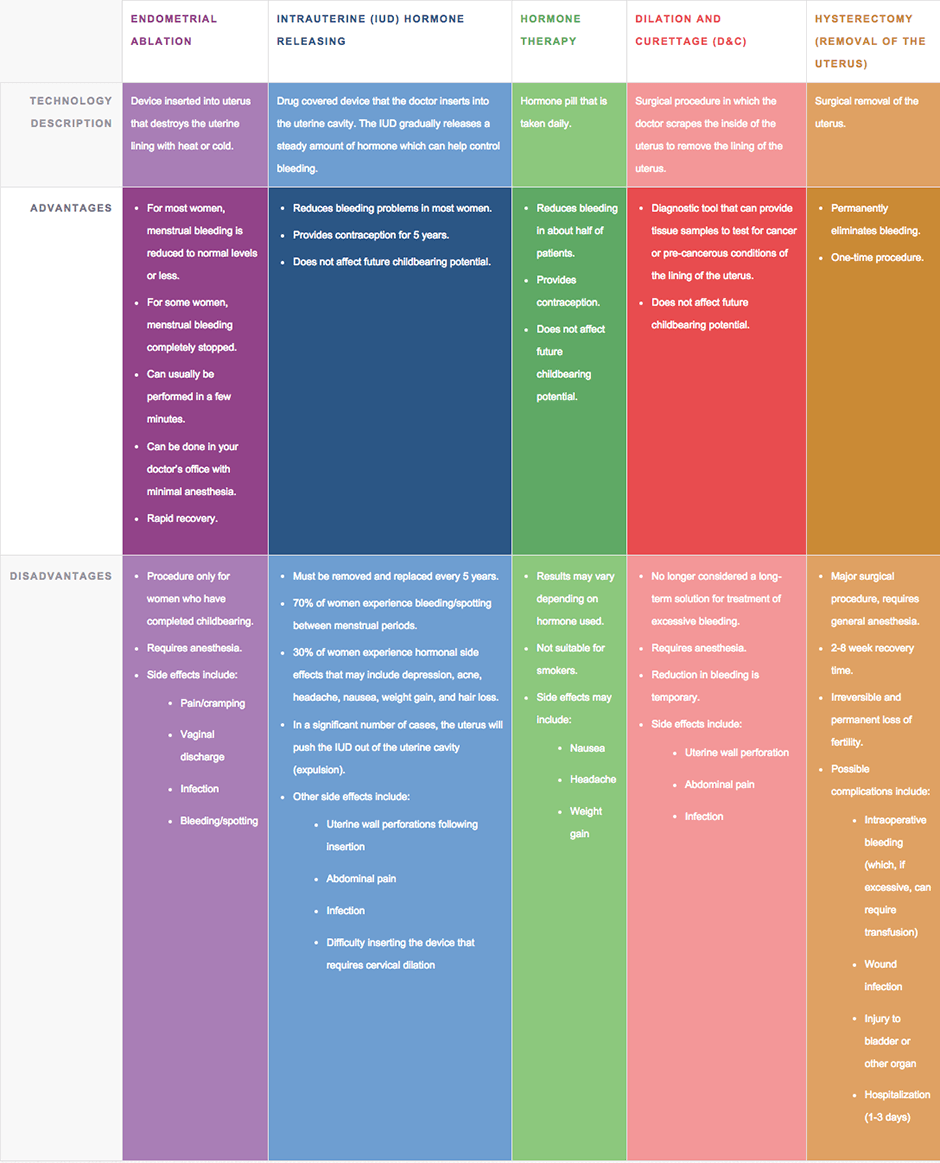 Who Should Not Have the Minerva Treatment?
The Minerva System should not be used in patients who have, or had, the following conditions:
Currently pregnant or wants to become pregnant in the future. PREGNANCY AFTER ABLATION CAN BE DANGEROUS FOR BOTH MOTHER AND UNBORN BABY.
Known or suspected cancer of the uterus.
Any weakness of the wall of the uterus. This may be due to past surgeries or long-term use of some medications. Talk to your doctor for more information.
Had an endometrial ablation in the past. Repeat ablation can cause serious injury.
Current infection, for example of the uterus, ovaries, bladder, or other organs. This procedure should not be used if you have an infection. Any infection must heal before the ablation procedure can be scheduled.
Intrauterine device (IUD) in the uterus. The patient must agree to remove the IUD before the treatment.
Patients with Essure™. It is not known whether the Minerva Treatment is safe and effective in patients who have had the Essure™ device in place.
A patient with a very small uterus should not have the treatment because it may result in injury. Your doctor will measure your uterus to see if it is too short for the Minerva Treatment.
Your doctor will explain the full list of contraindications and how they may or may not affect your specific situation.
Risks & Considerations of the Minerva Treatment
With any surgery, there are risks related to the treatment and anesthesia used during the treatment. Your doctor will talk to you about the risks of the Minerva treatment and will give you details about your individual situation. It is important for you to know the risks of the Minerva Treatment.
Request Your Appointment Today!
To request your appointment, please call (302) 202-4142 or contact us online today!
---
Our Newark, DE Location